just wanna worn you guys.. this is an extremely long post!
BUT I'm so excited that I FINALLY remembered to take pics of what I ate so I can link up with Jennifer @ Peas and Crayons!
For any of you that don't know… her blog is awesome! so check it out and link up with her for WIAW!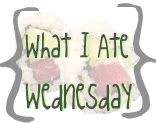 Breakfast:
3 Low-Fat Wildberry Muffins
Lunch:
2 white cheddar rice cakes
low-fat s'mores granola bar
mandarin oranges in water, not syrup (SOO GOOD!)
water w/ Crystal Light green tea + peach mango
( I promise I usually eat a more substantial meal, but I didn't have time for lunch today!)
Dinner:
(Ru san's)
Zucchini Tempura (so good!)
House Ginger Salad
I finally tried sushi (baked cali roll) .. the half you see is the half that didn't get immediately spit out in my napkin! YUCK!
Samurai Sunset (plum wine, sprite, and grenadine.. YUM!)
----------------------------------------------------
and for WILW!
go link up with Jamie!
1. We went to Ru San's as a sort of early birthday for Tatum/fat tuesday celebration haha.. yeah I know.. Japanese on fat tuesday doesn't quite make since! but..
I was loving my cheap meal! …7.95!
2. Nicole's new headband! so cute!
3. These rainbow peeps at walmart!
I heart peeps!
4. That my voice teacher asked me to baby-sit her to boys this weekend while they move into her new house.. I love kids! (and money ;)
5. that today we worked on "stormy weather" in jazz chorale.. LOVE IT! it made me want to go outside and sing in the rain! haha ;)
hope you guys injoyed what I ate and what I love! go link up with those lovely ladies and share what you ate and love!
-Mere