link up with Jamie and join the fun!
1. Goo Goo Clusters
Wes and I went to Cracker Barrel the other night and I bought some there, I've never had them before.. and man. they are good!! Mine were the "supreme" ones though.. with pecans instead of peanuts!
2. Sleepovers!
Friday night we're having an old-fashioned, middle school, sleep-over, girls night!
I'm talking pizza, junk food, tons of movies, sleeping in the living room, staying up all night sleepover!
im stoked!
3. Spring Formal
My friends and I decided to go to Spring Formal! One of our best friends, Katie, planned the whole shindig, so we're going as a group of girls..
I wanted my best friend Ashley to come and this is how our convo went:
Me- "Hey would you wanna come up for our Spring Formal?  It'll be just us girls"
Ash- "Are you asking me to formal? I'm flattered! Yes!!"
She's such a goob! ;) and the next day we're all gonna go to tea at Tea Leaves in Thyme!
-----------------------------------------------------------------------
What I Ate Wednesday!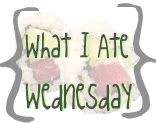 I'm linking up with Jenn @ Peas and Crayons again for WIAW! Go link up and join the party!
Breakfast:
Low-Fat Brown Sugar Cinnamon Poptarts!
(my fav)
and yes.. those are my initials scribbled on them so no one eats them! ;)
Lunch:
Fried Chicken
Mashed Potatoes & Gravy
Collard Greens
(from my dining hall.. and it was surprisingly decent! yay!)
sorry no dinner pictures! I promise to have some next week!
I hope everyone plays along with both of these!
-Mere