hey guys sorry I've been such a bad blogger! I've been working Phonathon at my school and most days I've been going straight from class to work until 8 and then I have to do hw! but phonathon is over this week! so hopefully I can get back to blogging!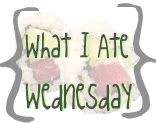 and im linking up with Jennifer @ Peas and Crayons for What I Ate Wedneday!
these are all from different days.. but I'm gonna make them one day! haha
Breakfast: (after our girls
night)
yogo ono- mango sorbet, strawberries, mangos, kiwis, and granola!
Snack: (at girls night)
we made rice krispies with cocoa krispies and these delicious caramel-vanilla swirl marshmellows..
they.were.heaven!
Dinner:
I made this for Wes and I the other night:
Italian bread crumb chicken
mashed potatoes
garlic green beans
and crescents! it was soo good and soo easy!
------------------------------------------------
join the fun with Jamie @ this is love!
1. in one month, I will officially be a senior
this is really blowing my mind! only 1 more semester of classes then I will be student teaching!
2. I was asked to do a solo in our jazz chorale!
its in "Stormy Weather" =) I am so excited, but so nervous too!
3.  My Alpha Chi ceremony was Sunday!
my mom and sister got to come up for the ceremony and afterwards we got to go out for pizza at this amazing place called Brooklyn Joes!
4. My new eyeliner!
L'oreal Voluminous Eyeliner! Idk if you can tell from the picture, but its basically like a fine tip marker! its..amazing!
5. Dresses for formal
its not like super formal.. kinda like half formal? but I like these!
well I hope everyone has a wonderful Wednesday! go link up and join the fun!
-Meredith